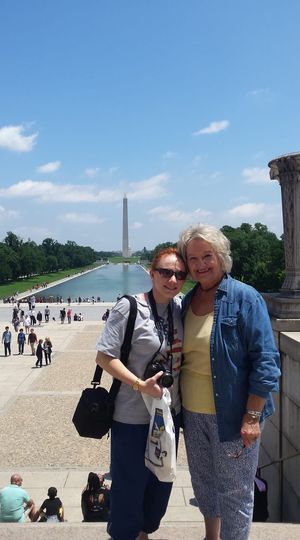 Downing Ministries, INC. (Ann Downing Ministries) is a 501 c 3 nonprofit organization.  The ministry is comprised of two people, Ann and ministry associate, Karissa Petty. 2020 marks Ann's 57th year of proclaiming the Gospel of Jesus Christ through music and Karissa's 10th year of full-time ministry alongside Ann.  The two have worked together a total of 11 years.  Ann is a Commissioned Song Evangelist with the Church of the Nazarene.
Ann and Karissa are strong believers that the Bible is a literal, living text and is God's inerrant Word.  While Ann is Nazarene, as a child, she was saved in a Baptist church, attended singing events at the local Church of God, and grew up in a family whose roots were deeply Methodist.  Karissa attended a Baptist church while in college and comes from a family with strong ties to both the Foursquare Church and the Assemblies of God.  The variety of their backgrounds puts them at ease working with all denominations.
Downing Ministries is available for various kinds of events
including but not limited to...
Concerts
Revivals
Camp Meetings
Women's Conferences and Retreats
Lay Retreats
Seniors' Events
Luncheons
Banquets
Downing Ministries, INC. has no underwriters and depends solely on provision from weekly ministry events and monthly support from Barnabas Club members.  Barnabas supporters are individuals who commit to a one year period of monthly giving.  These gifts may be made electronically here on the site, by mail, or by providing your payment preferences to Ann or Karissa to be securely stored and charged each month.  If you would like more specific information about the Barnabas Club, please contact us or visit the Giving page by clicking the "Give" link above.
As a 501 c 3, all gifts to Downing Ministries are tax deductible.
Receipts are issued in January.