MTWR: The Story
Paul and Ann Downing knew first-hand what the healing power of God could do in a relationship. Their life together was evidence. Having lost everything of earthly value,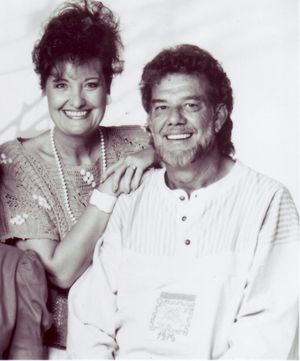 except each other, Paul and Ann set their sights on what they knew was their next calling.

That call was to establish a retreat for women. The goal?  To provide a safe haven, a place where women from all walks of life could come one weekend each year for the purpose of taking time away from their "everydayness" to reconnect with themselves and look to Jesus for their true identities. Paul and Ann knew this process would lead to their ultimate goal:  helping women learn more about the faith, hope, and love of God, the God who had restored them as individuals and as a couple. As Paul and Ann dreamed together, Middle Tennessee Women's Retreat was born. The calling that had become a vision was now a reality.

December 1991 marked the first of many attempts to defeat the ministry of Middle Tennessee Women's Retreat. In the parking lot of their Winchester, KY motel, Paul Downing collapsed and died at the age of 59. Emergency rescue teams revived Paul. He lived a total of 56 days in the Critical Care Unit of Lexington, KY's Humana Hospital. Ann lived in the hospital waiting room, never returning to Tennessee until after Paul's fight ended and the flight to His Heavenly Father arrived.

As days turned to weeks, Ann's friends rallied around her.  Concerned for Paul, but still making plans for the first retreat, the day of decision finally arrived. Brochures were printed and ready to be mailed. The call was made. Did Ann want to go ahead with the retreat she and Paul had spent many of the past months planning? With Paul in the Critical Care Unit, his status changing almost daily, the courage for which Ann has come to be known was evidenced in what could arguably be the greatest act of faith in her life. Her answer to the question was simply, "Yes, mail the brochures."

Paul passed away only 2 months before the first Middle Tennessee Women's Retreat. Though his fingerprints were all over the planning and the journey to realizing the vision, he never got to meet the women whose lives his desire and hard work would change. Amazingly, as only God can do, it turned out that Ann was the one most ministered to during that first retreat. She felt free to grieve even among people she did not know. As a result, the element of safety Paul desperately wanted the atmosphere to exude became the reputation for which Middle Tennessee Women's Retreat is known today.

Ann had no expectation that there would be a second retreat. April 22-24, 2021 will mark the 29th annual retreat.  The celebration kicks off with a Friday evening Musical Welcome. The retreat is, after all, held near Music City. Ladies from around the United States break into small groups and workshops are offered on a variety of subjects especially important to Christian women. Past workshops include topics such as Financial Freedom, Preparing a Feast in the Presence of Your Enemies, and Spiritual Warfare, to name a few. Ann carefully selects workshop leaders with a passion for communicating the truth of who God says we are and what He wants to share with us through His Word and each other's life experiences.

Dynamic keynote speakers are also characteristic of Middle Tennessee Women's Retreat. Florence Littauer, Carol Kent, Jennie Afman Dimkoff, Gloria Gaither, Chonda Pierce, Mary Whelchel, Sandra Aldrich, and Kendra Smiley are just a few of the speakers Middle Tennessee Women's Retreat has proudly hosted.  Rita Sweatt will join us again as keynote speaker in 2022.